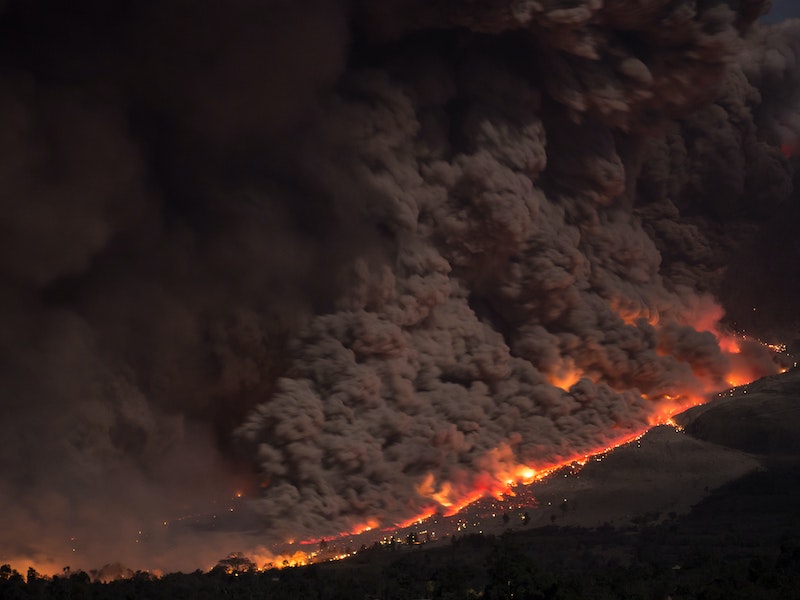 12 Nov

Home Emergency Preparedness

Unfortunately, the recent fires throughout our state have reminded us that a disaster can occur virtually at any time. And while we cannot control these events, we do have the power to ensure that we are as prepared as possible if and when they do happen. 

We wanted to share the following information hoping that you'll be more equipped to protect yourself, your loved ones, animals, and home. Keep in mind, this is not an all-inclusive list, but some recommendations from The Red Cross to get the planning and preparation started. 

Prepare Before the Event: You + Your Loved Ones

Create a disaster supply kit and keep it in an easily accessible place. Ensure that all family members know where it's located as well. 

The kit may include items such as:  
Face masks

Three-day supply of non-perishable food and three gallons of water per person

Map marked with several evacuation routes

Prescriptions or special medications and glasses/contact lenses

Change of clothes, extra set of car keys, credit cards, and cash 

First aid kit, flashlight, battery-powered radio, and extra batteries

Copies of important documents (birth certificates, passports, etc.)

Pet food, bowls, and leashes
Have a family emergency plan. This is crucial to ensure that all members of your household are prepared, even if someone is not at home when a disaster occurs. Your plan might include the following: 
Identify a close friend or relative who lives out-of-state for household members to notify that they are safe. 

Draw a floor plan of your home and escape routes throughout the house. Be sure that everyone in your household understands the drawings, especially children. 

Create a drawing of your neighborhood, and identify how you would get to safety in a car or on foot. 

Establish a place to meet in an emergency if your household is separated; record the locations so all family members know them.

If you keep your phone on silent at night, make sure you still accept calls from specific numbers (emergency alerts, neighbors, etc.) 
Prepare Before the Event: Your Home
Regularly check your insurance policy to ensure that your coverage is still adequate 

Keep photos and/or videos of all your belongings up-to-date for insurance purposes 

Regularly clean gutters, chimneys, and your roof to ensure they're free of debris

When possible, create a 100-foot 'defensible space' around your home that is free of dead trees, branches, leaves, woodpiles, lawn furniture, barbecue grills, tarp coverings, etc…

When possible, use fire-resistant or non-combustible materials on the roof and exterior structure of the dwelling, or research treating wood or combustible material used in roofs, siding, decking, or trim with fire-retardant chemicals

Install smoke alarms in your home. Test them monthly and change batteries once a year, even if they aren't dead yet.  

Sign-up for any local emergency alerts that your county or city provides 

Join local Facebook groups to ensure you're in the know about situations in your neighborhood 

Talk with your neighbors. Can you find someone who could get your pets if you weren't home if there was an emergency? Can you do that same thing for one of your neighbors? 
During a Fire 
Depending on the situation, you may have ample notice (a few hours) or no notice at all to evacuate your home. These circumstances obviously will dictate how much time you have to collect your belongings. 
Here is a super helpful PDF that you can fill out and put on your fridge and give to family members so you can act accordingly based on the circumstances. If the items listed don't fit your needs, take five minutes to create your own quickly. You may not remember things clearly in a time of panic, so this resource is invaluable! 
Remember, if you are asked to evacuate, do so immediately! Grab your household members, pets, emergency preparedness kit, and GO. 
If you may potentially have to evacuate but haven't been ordered to do so, here are some items FEMA recommends you do: 
Get in touch with any household members that may not be home to ensure they are aware of a potential evacuation and are clear on the plan 

Find a friend or family member you can stay with. If that's not an option, see if there are evacuation centers set up that you could go to 

Arrange temporary housing at a friend or relative's home outside the threatened area if you need to evacuate 

Turn on outside lights and leave a light on in every room to make the house more visible in heavy smoke 

Gather fire tools such as a rake, axe, handsaw or chainsaw, bucket, and shovel

Close outside attics, eaves, and basement vents, windows, doors, pet doors, etc.

Close all shutters, blinds, or heavy non-combustible window coverings to reduce radiant heat

Close all doors inside the house to prevent a draft

Open the damper on your fireplace, but close the fireplace screen

Shut off any natural gas, propane, or fuel oil supplies at the source

Connect garden hoses to outdoor water faucet and fill any pools, hot tubs, garbage cans, tubs, or other large containers with water

Place lawn sprinklers on the roof and near above-ground fuel tanks, and leave the sprinklers on, dowsing these structures as long as possible
While much of this list is focused on fire danger, many of these steps also apply to earthquakes and other natural disasters. And while we may not like talking or even thinking about these types of things, preparedness is a crucial way to avoid anxiety around these types of situations and can ensure you, your loved ones, and home are as protected as possible if a disaster occurs.